Regular price
Sale price
$69.95 USD
Unit price
per
Sale
Sold out
Description
Never miss that exciting video due to dead camera batteries.
X~PWR X3™ all-weather external power kit allows your Insta360 X3 camera to be plugged into an external USB power source for continuous power.
The aluminum case provides the maximum camera protection. X~PWR X3 cable provides protection against the harsh environments of outdoor, winter & powersports activities**.
Weatherproof* (IP65 - water washdown)
Mount frame is machined from aircraft grade aluminum billet and is black anodized for harsh weather protection.
The mount frame provide two mounting options:

Flip out fingers
¼-20 threaded hole (standard camera/tripod thread)

Three cold shoes – one on top and one on each side
Side load allows ease of camera removal without removing the mount.
All camera microphones are exposed for optimum audio
USB cable has a custom overmold that is secured tightly to the camera to prevent damage.
USB cable seal pad is made from oil and gas resistant closed cell foam for maximum seal compliance and excellent environmental protection
Kits available with USB cable lengths of 9", 18", 36", 48" & 66"
Additional cables available for multiple applications (sold separately)
* X~PWR X3 does NOT provide waterproof camera protection. It cannot withstand submersion
** X~PWR X3 is not recommended for watersports activities where submersion is possible e.g., whitewater kayak or rafting or personal watercraft used in such a manner where overturning or wave breaking is possible.
X~PWR X

3 

Aluminum mount frame w/ Side Door Loading
X~PWR X3 USB cable with foam seal
Mount Screw and hex wrench
Share
View full details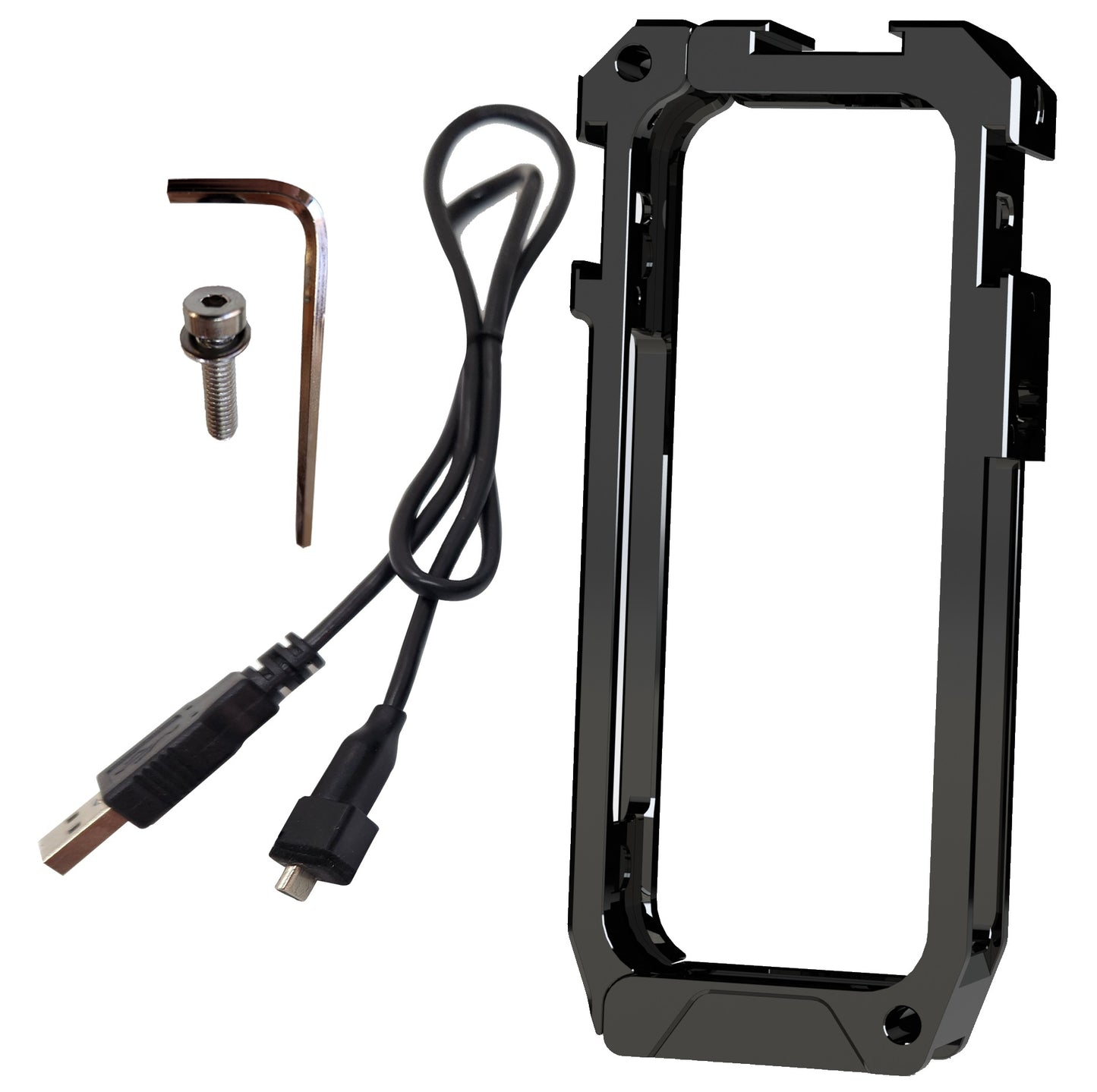 Insta 360 all weather power cord case
Great product , functions exactly as expected very well designed. Fast service.
Works great
Left for Sturgis with the wrong size. I was able to get a usb extension cable. Works great and I'm sure the ones I ordered will be just as good.
Good Quality
Very good quality materials and concept. The only minor improvement for me would be a screw fitting (as used on the GoPro case) rather than the spring catch fitted as I feel a screw cach would be more secure for the camera.
More power, more video, less worries
This device is truly and simply an amazing product that has allowed me to focus more on my fishing hobby. I'm fishing more now rather than having to make sure I have multiple batteries charged and ready to be changed while fishing. Instead I just mount my camera's selfie stick into the kayak mount, plug into the 3BR TAPP all weather usb power port, hit record, and focus on fishing.
The Insta360 X3 camera fits nice and secure within the bracket, while the power plug remains waterproof. High quality craftsmanship that is light weight, tough, and durable.
I highly recommend this product in conjunction with the TAPP all weather usb power port as they make a great team.
The quality I've come to expect.
This is my third X-Pwr product from 3BR. I was particularly interested to see that instead of the screw closure of previous models, the X3 has a easily opened spring latch. I do admit wondering how well it would stay closed through the vibrations and shocks of riding. I have now put 200+ miles on the mount and my concerns were unnecessary. The X3 holds my camera securely and provides all day power. Excellent product!
Thanks for the review David.
I have to admit that I was concerned about the latch as well.
In fact I considered testing the prototype with a cable tie through the hole in the fixed side frame but decided that I would test without it first.
Turns out that no matter how I beat and bashed it, the latch stayed secure.
Thanks for confirming my findings.