Regular price
Sale price
$69.95 USD
Unit price
per
Sale
Sold out
Never miss that exciting video due to dead camera batteries.
X~PWR MAX™ all-weather external power kit allows your GoPro MAX camera to be plugged into an external USB power source for continuous power.
The aluminum case provides the maximum camera protection. X~PWR MAX cable provides protection against the harsh environments of outdoor, winter & powersports activities**.
Weatherproof* (IP65 - water washdown)
Mount frame is machined from aircraft grade aluminum billet and is black anodized for harsh weather protection.
The mount frame provides three mounting options:

Camera flip out mount ears
Mount ear plate
¼-20 Mount plate (standard camera/tripod thread)

Side cold shoe
All camera microphones are exposed for optimum audio
USB cable has a custom overmold that is secured tightly to the camera to prevent damage.
USB cable seal pad is made from oil and gas resistant closed cell foam for maximum seal compliance and excellent environmental protection
Kits available with USB cable lengths of 9", 18", 36", 48" & 66"
Additional cables available for multiple applications (sold separately)
* X~PWR MAX does NOT provide waterproof camera protection. It cannot withstand submersion
** X~PWR MAX is not recommended for watersports activities where submersion is possible e.g., whitewater kayak or rafting or personal watercraft used in such a manner where overturning or wave breaking is possible.
Aluminum mount frame
X~PWR MAX USB cable with foam seal
Mount ear plate with screws
¼-20 Mount plate with screws
Hex wrench for mount plate screws
Note: X~PWR MAX kit does NOT include the camera
Share
View full details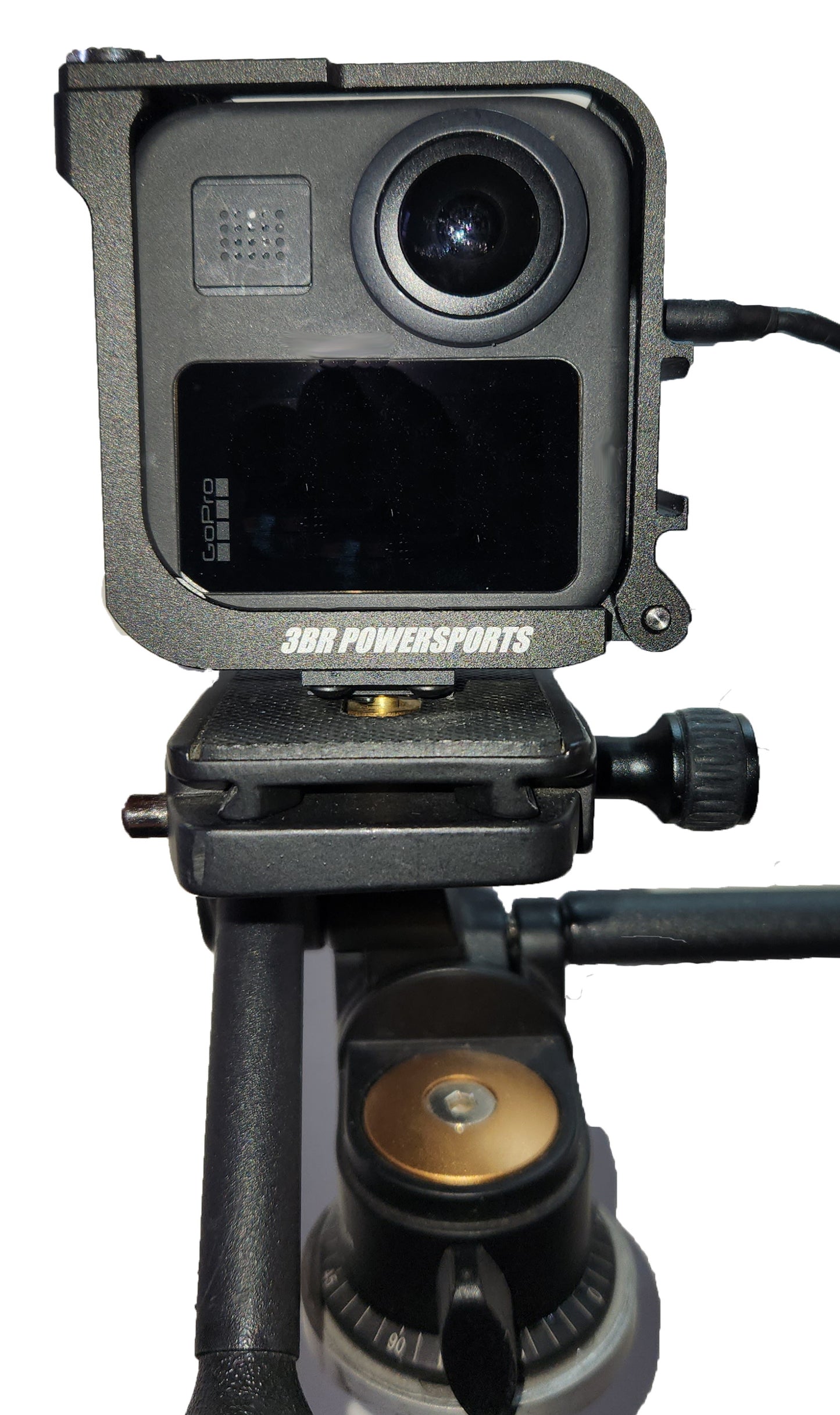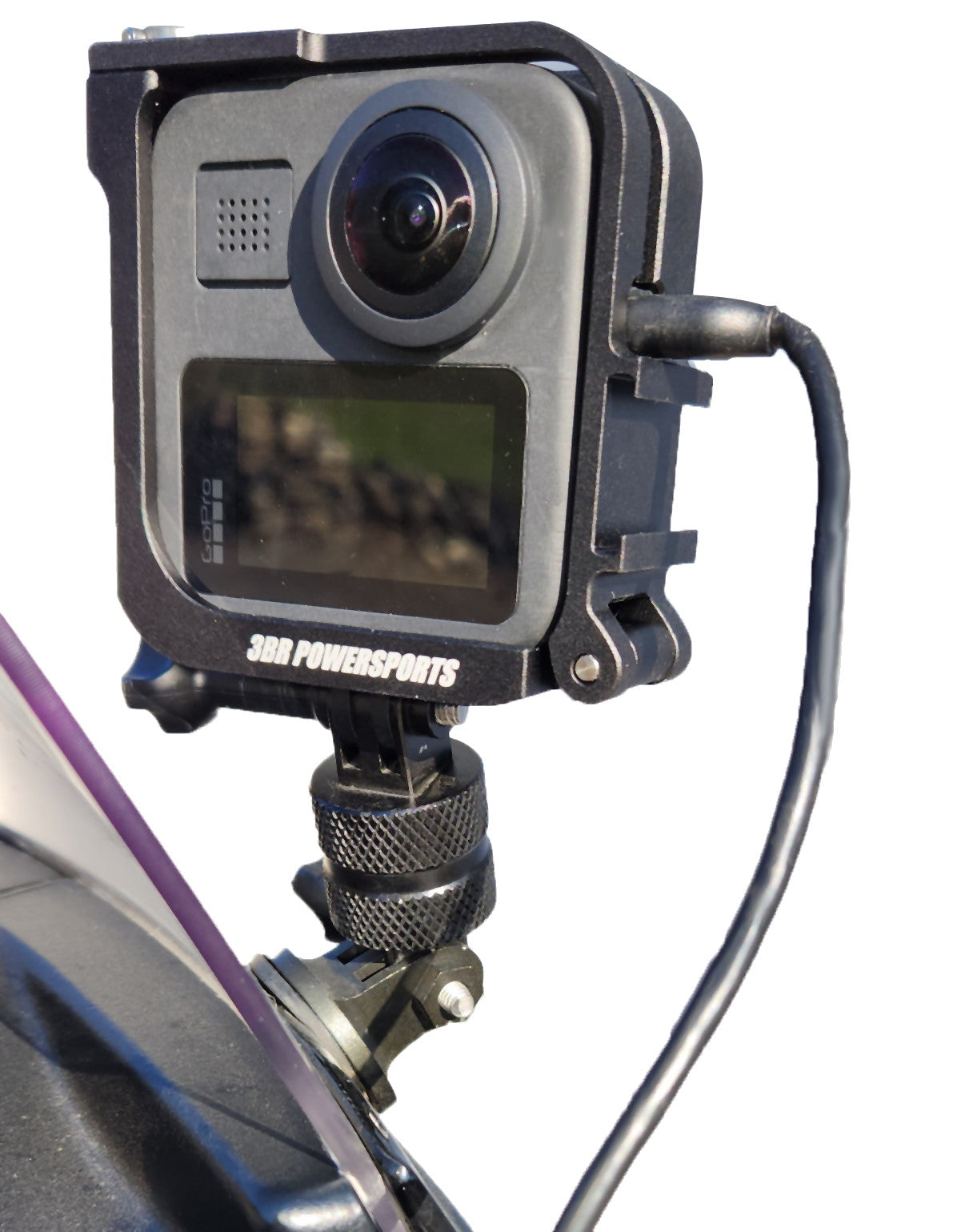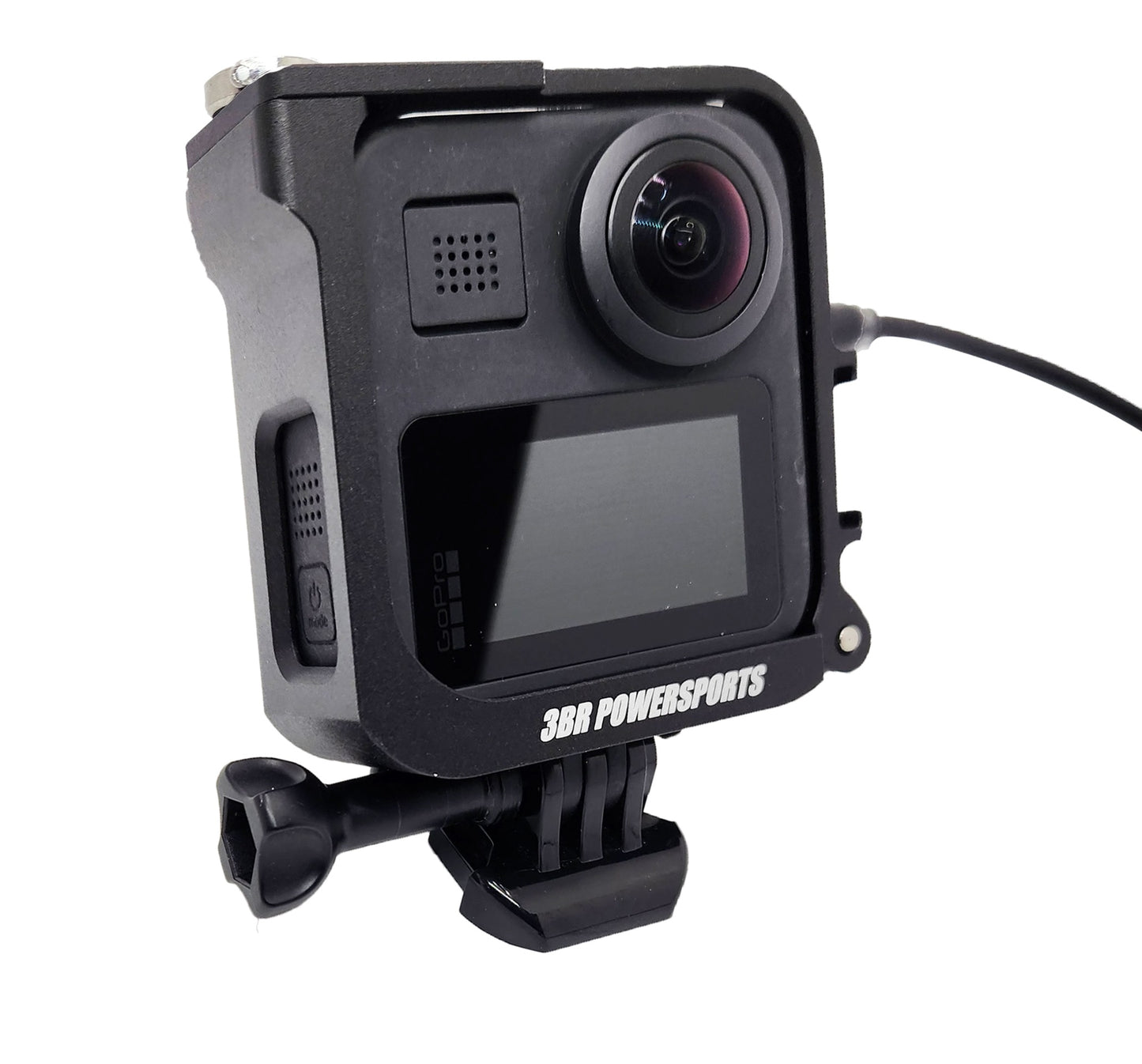 Poor quality case
The case is ok but doesn't work with the lens covers, also the screw that hold the case closed is stripped and very difficult to align so once the case is on it will not be able to be removed in fear of not being able to get it closed again.
Andrew -
The issue with not working with the lens covers is noted. I am working on a solution that will be incorported in the next batch of housings.
As for the stripped screw, this has not been a problem with other users. Note that in order to get a good seal on the USB cable, you have to apply pressure on the frame near the screw to get it aligned.
Let me know if you have stripped the screw by trying to tighten it with a gap between the two halves. I will replace it under warranty.
Meanwhile, have a look at the product video to see how to install your GoPro MAX in the mount frame (3:20). Notice where I have my hand placed on the pivoting part of the frame to be sure I have good leverage to close it tightly.
UPDATE 7-27-23 Andrew, I see that you have received the replacement housing. I haven''t heard back from you so I assume all is good. Hopefully my suggestions on closing the housing helped.
Meanwhile, your returned housing arrived. The threads are fine and still show anodize over their full length. There is some galling around the thread lead in which can be cause by attempting to tighten the 1/4-20 before it is aligned.
Exact tool, exactly when I needed it
First, Don is fantastic!! Second, the product works better than advertised. In the past, I've had to choose between a water tight camera and swapping batteries every couple hours or plug it in and take a risk filming on the water. The canoe racing team dumped 7 times. We had the camera with the X-PWR Max mounted to the front with the external power bank in a small dry bag tied down next to it. No water penetration to the camera or power source. I have a new set up!!
Awesome Kit
I searched everywhere for a product like this. Don was extremely helpful and the quality of the product is amazing. Would highly recommend the MAX kit to everyone that needs constant power for the GO PRO 360